Level 1 Instant Download Instructions

---
1. Find Your License Code
Once you've purchased the Visual Link Spanish Level 1 Instant Download, you will receive a purchase email. The subject line will be "Username and Password For Your Digital Product". Copy the license code from this purchase email. Your license code starts with VLL1. If you do not see the email, please check your spam or junk mail folders. You will need the license code in order to activate your new software.
Example of a License Code: VLL1-XXXX-XXXX-XXXX-XXXX-XXXX
2. Download the Level 1 Install File
Click the link below to start the download of the install file for the Level 1 Course:
Download Visual Link Spanish Level 1: Sentence Building
3. Run the Level 1 Install File
Once the download has finished, the install file will be in your "downloads" folder (unless specified otherwise). The name of the file is "VisualLinkSpanishLevelITrialSetup.exe". Click this file to start the installation of Level 1.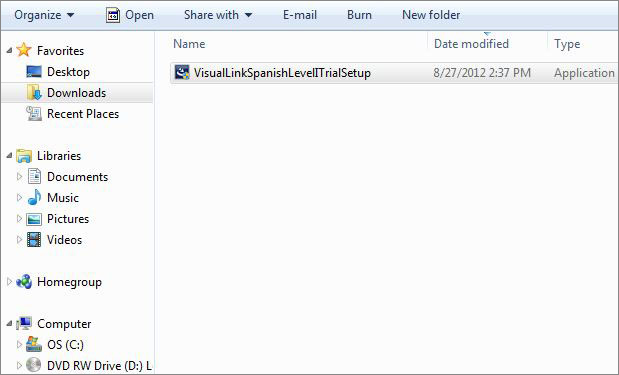 When the installation has finished, a red icon with a white pyramid will appear on your desktop. Click this icon to launch Level 1: Sentence Building. You can also open the program by going to:
Start Menu > All Programs > Visual Link Languages > Level 1 Sentence Building > Sentence Building
4. Activate the Level 1 Software
Enter your license code into the activation window. Click Continue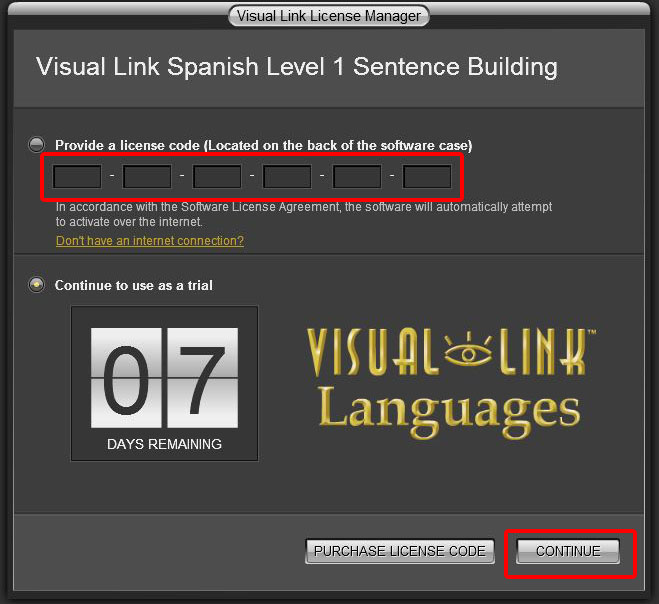 5. Download Level 1 Course Supplements