As I was working, a few years ago, with our linguists and software developers to create our Level II Introductory Verb course, I spent hours and hours researching a Spanish Verbs List that we could use in the course that would have the most common Spanish verbs.
Spanish Verbs List
162 Most Common Spanish Verbs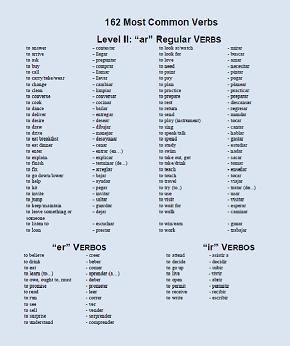 (Click image for verbs list)
This Spanish verbs list contains 162 of the most common Spanish verbs. It is organized first by "regular" verbs – "ar", "er" and "ir" (alphabetically). Then, I've categorized them by all the types of irregular verbs in the present tense. I believe we've covered every category of irregular verbs in Spanish. The stem-changing verbs have the letters that change underlined with the letters they change into in parenthesis. Finally, the Spanish verbs list contains a great little list of the most common reflexive verbs – both regular and irregular.
If you want to try a 7-day trial download of our Level II verbs course, you should be able to learn all the present tense verbs (including irregulars) for free during the 7-day trial (if you push yourself). The software contains classroom-style lessons that teach you all the verbs and conjugations.
To learn how to conjugate all the verbs in the "Spanish Verbs List" in 5 major tenses in Spanish, try our free download below:
Visual Link Spanish - Level II (Introductory Verbs)

Free 7-Day Trial

Topics Covered: Present Tense, Reflexive Verbs, Present Progressive, Present Perfect (Have), Preterite Tense, Direct Objects

Verbs Learned: 162 Most Common Verbs

Time to Download: 15-90 minutes depending on your modem speed
Enjoy learning Spanish! I love sharing Spanish – ¡Es lo mejor! (It's the best!)