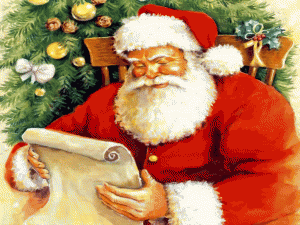 Ho-ho-ho! It's the Festive Season, and Christmas is just a day away! How about getting a quick Spanish practice while you're waiting for Santa? Below, we give you a simple excerpt about Christmas and New Year in Spain. Of course, it's written in Spanish, but the level of difficulty is perfect for intermediate language learners. The vocabulary is easy, and, again, it's Christmas! Why don't you try reading it and let us know how much you understand :).
La Navidad y el Año Nuevo en España.
Desde el 8 de diciembre empieza a advertirse en España el ambiente navideño, las calles empiezan a adornarse de luces (aún apagadas) y de guirnaldas. En esa fecha se celebra la festividad de la Inmaculada Concepción. El día 22 de diciembre es el comienzo oficial de la navidad española con la celebración del sorteo extraordinario de Navidad de la Lotería Nacional. Es un día muy especial para todos, las calles se llenan de ilusión y la vida, aunque continúa, durante cinco horas gira en torno a la radio, a la tele o a internet, ya que cualquier ciudadano puede convertirse en el afortunado ganador del gordo. Los niños han terminado las clases y empiezan las vacaciones de navidad delante del sorteo.
El siguiente día destacado de la navidad española es el 24 de diciembre, Nochebuena, día en que se celebra (según la religión católica) las vísperas del nacimiento de Jesús.En esa noche se celebra la tradicional Misa del Gallo. Según la tradición, este animal fue el primero en presenciar el nacimiento de Jesús y anunciarlo al mundo.
Era habitual que los miembros de la familia asistieran juntos a esta misa de medianoche. Durante la Nochebuena se cena con la familia, una cena que termina en fiesta, ya que es costumbre, después de cenar, visitar a los amigos o familiares, comer dulces típicos navideños y cantar villancicos.En el sur de España también son típicas las fiestas flamencas, celebrando la Nochebuena cantando flamenco.
El día 25 es un día más tranquilo, aunque también de reunión familiar.Lo más importantedel día es el almuerzo u se suele hacer con la familia más cercana.
El día 28 es el día de los Santos Inocentes, día muy divertido y en que todo el mundo gasta bromas y pegan muñecos en las espaldasde sus conocidos.
El fín de año llega a España con la Nochevieja. Tradicionalmente se celebra tomando las uvas en la Puerta del Sol de Madrid o viéndolo por la televisión.
Tras estos días de fiestas nos queda el día infantil por excelencia : El día 5 de enero : el Día de los Reyes Magos . En la noche dl día 5 al 6 de enero, los niños españoles reciben los regalos de los Reyes Magos de Oriente.Es una noche mágica, tanto para los niños que no pegan ojo por la ilusión como para los adultos, por la ilusión que los niños transmiten esa noche.Es tradicional la Cabalgata de Reyes, en la cual, los Reyes Magos lanzan caramelos a los niños.